Having sorted out the boring stuff such as Bank Accounts and Tax numbers, we set off for a
Ghost Tour
around the spooky area
The Rocks
(originally home to all the convicts sent to Oz). Having missed out on the ghost walk in Christchurch, I was really looking forward to this one.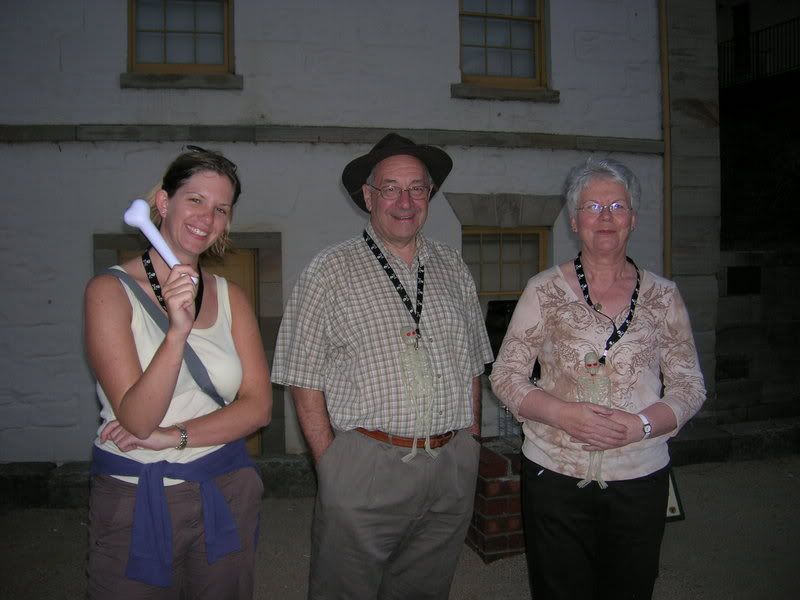 We met outside Cadman's Cottage, out tour leader was already there in a cape and trilby hat and surrounded with candle lit lanterns, giving the area an eerie glow - so far so good! When he called us together he handed out props - audience participation and a low level of acting would be required... looks like it's going to be a good night.
Mum and Dad had a glow in the dark skeleton each around their necks and were called the 21 year old girl and 21 year old boy respectively. Helen - here with her prop - was called bone girl! I sadly didn't have a prop, but this did mean I could laugh twice as loud at these guys!
We set off, and apart from a couple of good stories the evening was a bit of a disappointment. There were more tales of people dying than of ghosts, and to be honest, although some of the stories were good, our guide had a poor way of delivering them, going off the topic a lot, and getting very easily distracted. This meant that even a good story wouldn't raise the hairs on the back of your neck as we were all so exasperated with him.
The spookiest thing of the whole evening was watching the fruit
bats
fly over the harbour. They do this every evening but this was the first time I had seen them. They're huge, and when sillhouetted against the night sky, can really raise a shiver. That and the fact that one of them weed on me!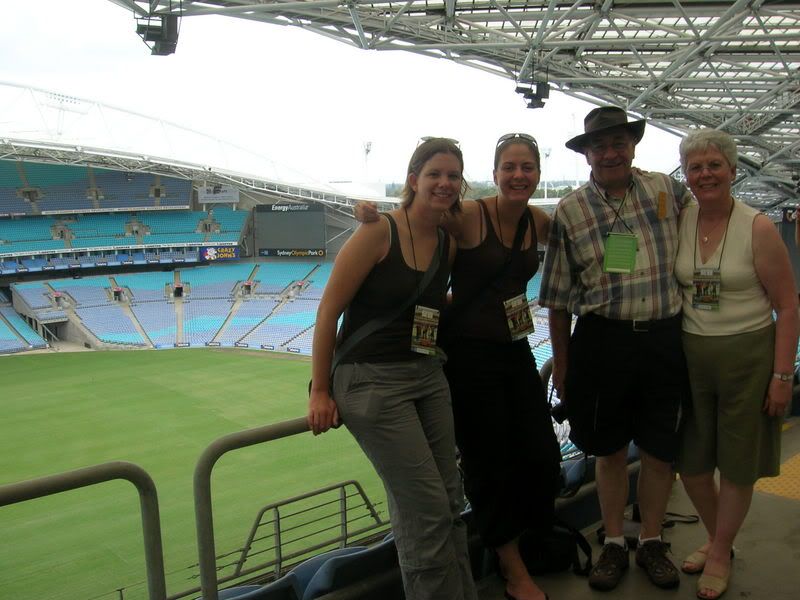 The next day, the D-B's, and H set off to
Telstra Stadium
- home of the victorious Jonny Wilkinson drop goal that made England Rugby World Champions, and of course the 2000 Olympic Games.
With H's and my working background in sport, we also have a really geeky interest in Stadia, and this one is particularly impressive.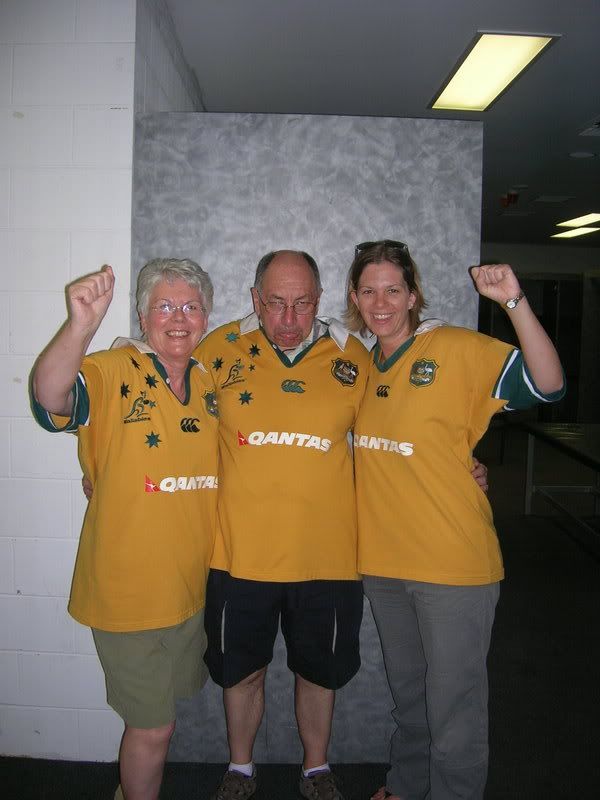 After having a tour of the 80,000 seater stadium (which hosts Rugby League, Rugby union, Soccer, and AFL, as well as Cricket) we headed down to the changing rooms. The Wallabies change in the away changing room due to superstition so we were in the very place where the England team had warmed up nearly 4 years ago.
After a chance to kick a ball about, and practice our Jonny Wilkinson poses, we also had the opportunity to put on a shirt. It took a lot of persuading to get Dad in a Wallabies shirt, and as you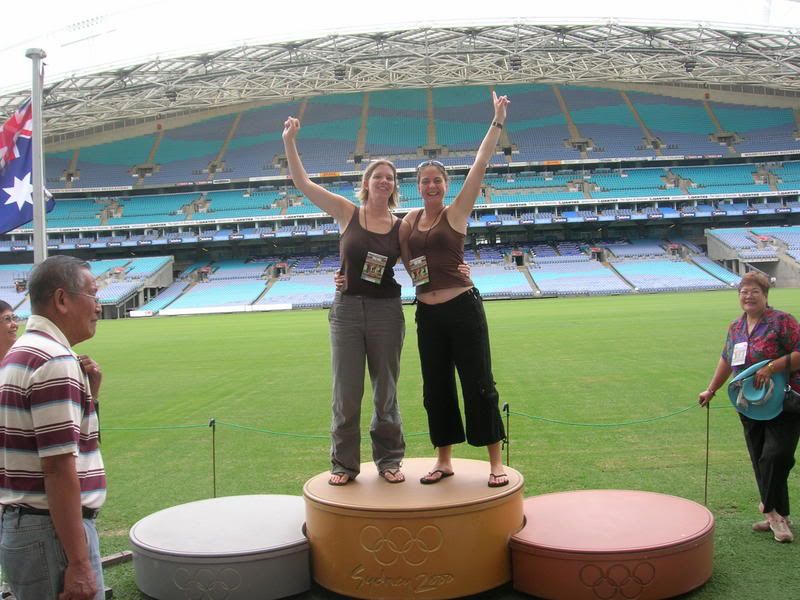 can see he's still not happy about it!
From here down the tunnel with the cheers of the crowd playing out, and a chance to stand on the Olympic podium. H and I won Gold for the 3 legged race, and our other competitors were so ashamed of their bad times they decided not to show up for the medal ceremony.
That evening, Mum and Dad treated Helen and I to dinner at the
Centre Point Tower,
as an early birthday present to Helen. We had a wide choice of food from the buffet, including, and hence the apology to Sarrie...
Roast Camel
. Here is a picture of me tucking into it - and might I add it's very tasty indeed!
The restaurant revolves so we also had wonderful 360 degree views of the city including the harbour bridge, as we ate our dinner. A really nice evening!
We were supposed to be going to the
Opera House
that evening for a performance of Music at the Movies, hosted by Michael Parkinson, but unfortunately the performance was cancelled, as Parky's mum was critically ill, and he had been called home. This was a real disappointment for us, but totally understandable - so we just wandered around Circular Quay for a bit before heading home.