In Sydney, the month of February celebrates the
gay Mardi Gras
. Loads of events happen throughout the month culminating in the big parade which this year takes place on Saturday 3rd March. One of the events held is a fair in
Victoria Park
, and so Helen, Suzanne, Lincoln and I had made plans to go.
The day before, Helen and I took a wander through the
Botanic Gardens
and down to
Mrs Macquaries
point for great views of the Opera House and Bridge. We passed the outside cinema (where Sylvester Stallone was, later that night, for the Australian premiere of Rocky Balboa), and while trying to take a photo of a Kookabura, got chatting to a random guy. This is how easy it is to make friends when travelling. 5 minutes of idle chit chat, and Rich (who's claim to fame is that he came 3rd in the National Air Guitar Championships at home!) was joining us for our trip to the
Mardi Gras Fair
.
A fantastic sunny day sees the famous five catch the train to Redfern, not knowing exactly where we are going, but eventually following in the direction where men holding hands and carrying pink australian flags were coming from.
The large park seemed to be decked out in the traditional rainbow colours and full of stalls. There was a food village serving everything you could think of, and a larg
e stage with bands playing throughout the day. We grabbed a beer, and sat down to take it all in.
There were several drag queens walking about, who to be honest, looked absolutely fantastic. One had made her whole outfit from the green heavy duty shopping bags. A lot of couples had also dressed their dogs in outfits to match their own. I lost count of the number of spangly clothed dogs we saw!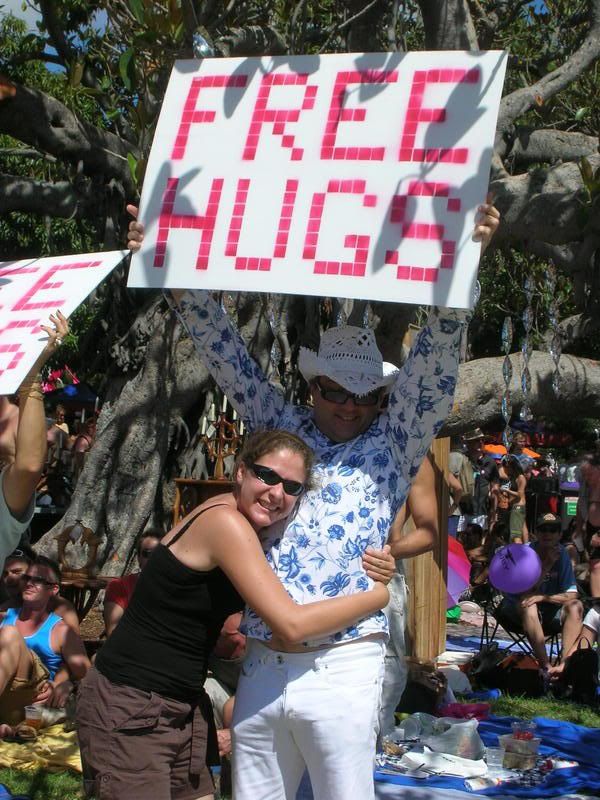 As we sat and enjoyed the sunshine, H felt something blow against her hand. She thought it was rubbish, but it turned out to be a 50 dollar bill. We looked for someone to claim it, but when no one came running after it, it became the beer kitty for the rest of the day! Woo Hoo!
We wandered over to the main stage where the winner of Australian Big Brother (who had come out on National TV) was making a speech, and then noticed the (as Rich put it) "
Gayest tree in the world!".
It was awesome. A large tree, hung with silver spirals which spun in the wind, and m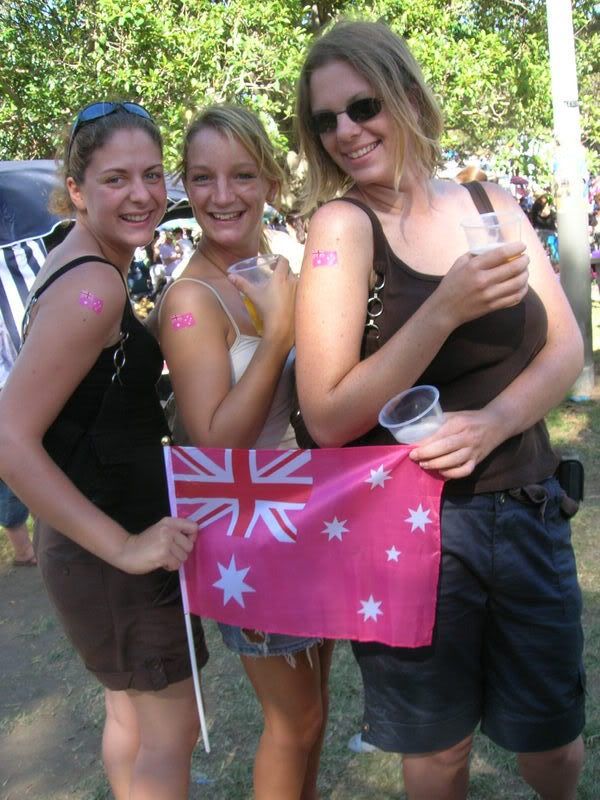 ade the whole tree all sparkly. Underneath this tree were a lady and man holding the signs
"FREE HUGS".
Those of you who know me well, know that I am all about Hugs. There are not enough huggers in the world, and I certainly have not had my quota of hugs since being away - so this opportunity was too good to miss. (I ended up hugging both of them)
Our friend Luke was unable to join us, so we decided to get him a pink flag to take into work on Monday and cheer him up. Nothing to do with the fact that Suzanne wanted to wave it for the rest of the day!!! We also got some pink flag tattoos... so decided to support the cause by sporting them on our arms.
Towards the end of the afternoon we saw some more drag queens. It's somewhat slightly disappointing that she has nicer legs than me.
The whole day was completely fantastic, and I can't wait for the big parade!