Every so often when you're on the move you need to have a day to chill out and today was just one of those
days, which was lucky, as today John and Sue took us out on their boat for the day.
We started off in Killarney Heights, where their boat is moored and worked all through the harbour. A gloriously sunny day, we lazed on the deck, went for a swim, and then sunbathed as the boat headed towards Manly.
I feel the need to explain this photo on the left - as Izzy taught me, this is the favoured pose of young Japanese people in photos, and it has never been more clear to me than here, as Sydney is full of Japanese. So this is us being Japanese on the boat, because we can!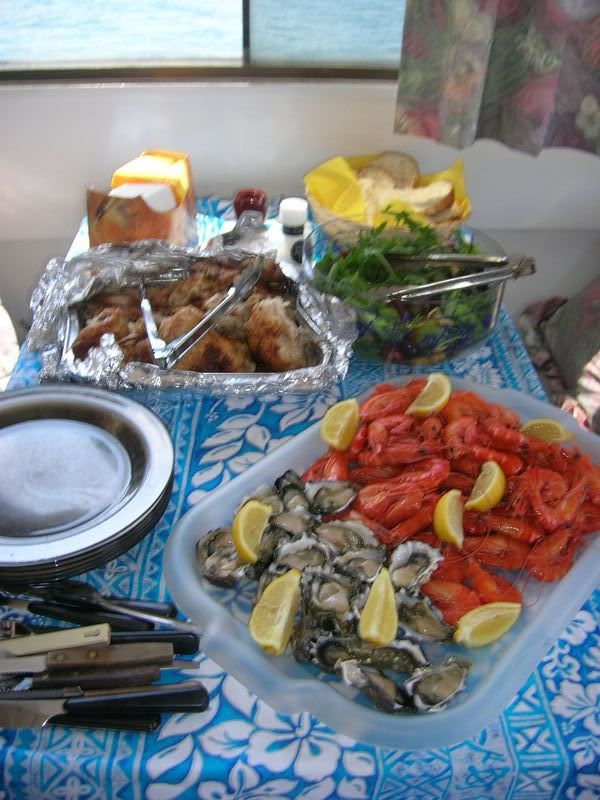 We moored in Manly, and had lunch - chicken, fresh prawns, Oysters and Salad... WOW! I was that impressed a took a photo. I had never eaten oysters before - another first, and I was pleasantly surprised that I actually like them - I always have had expensive taste!
From here we motored out to the Gap, went a little way out to sea, and then headed back in with great views of the Sydney Skyline, and then of the Opera House and Harbour Bridge.
We had afternoon tea in Darling Harbour, before saying goodbye and heading back to the hostel, a little bit pink in areas that haven't seen the sun for a while, but relaxed, and fully fed and watered.
That night saw another trip to Scruffy Murphys, for France v Italy (yawn), and Ireland v Wales. Having had a blonde moment while dressing I put on a green top.... but I assure you I was supporting Wales... not that that did me much good. That is the one bad thing about having to stay up to watch a game... if you're team loses you wonder why you bothered!