Back in Darwin we head to the
Mindil Market
on the Sunday night. It's a funky market, full of stalls, and loads of asian food (we're so close to Asia up here!). plsu it's right by the beach so with another beautiful west coast sunset, it makes for a pleasant evening of browsing and eating lots of food.
There was a 2 man drum and bass didg band. A guy on drums and another playign 4 didg's tied together like a giant set of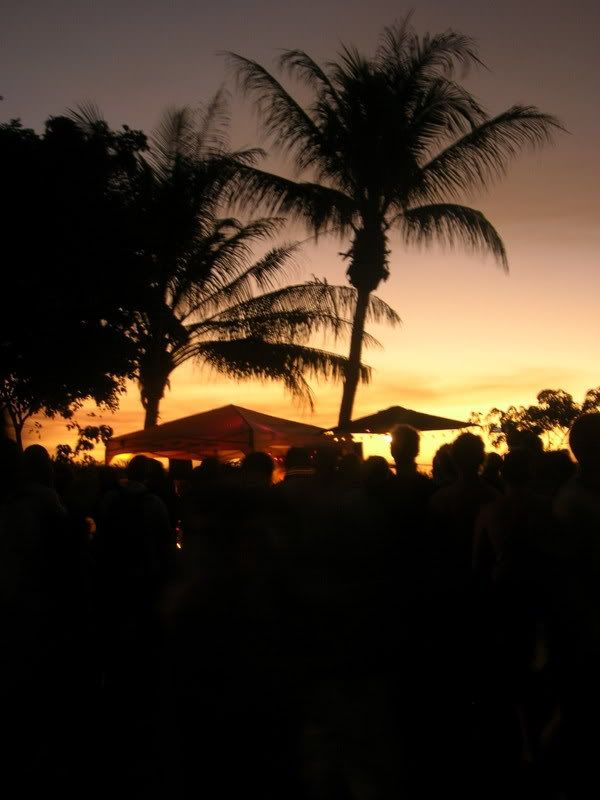 panpipes. It was really cool!
The next day, H and i hire a care and drive out tot he
Adelaide River
to see the
jumping crocs
. These crocs get right out of the water. One of them (imaginatively namesd Stumpy) only has one leg!
I have a new found respect for crocs. No wonder they've lasted since the jurassic age, they can have a limb amputed and not bleed to death!
We also saw some Kites which swooped down to catch meat thrown to them in the air, and then feed themselves with it mid flight!
Our final night of the west coast was spent at the
Deckchair cinema
. An open air cinema where you sit in....?! you guessed it!. We saw Marie Antoinette. I like out- door cinemas - especially when they give you free mossie repellent and allow you to have a beer during the movie!
With the West Coast ticked off, we continue our adventure tomorrow with the start of our journey down the east coast back to Sydney.