The following day and we made our way by bus to
Wellington
- the Capital of New Zealand.
We decided to embrace our geekiness and go on the
Lord of the Rings Film location tour
the next day. Our bus consisted of a family of Americans, and a brazilian called Thomas, who was pretty quiet, but who we run into later in the South Island, and provides much amusement in the future. The benefits of writing this in hindsight!
Our tour guide had a habit of waffling, and asks us if anyone needs to be back on time - this turns out to be not because of all teh extra information he would be giving us but because he rambles and goes off the point. A lot... and to make matters worse, tries to argue with us that you could ONLY score 2 points in a rugby Union match. Does he know who he's contending with?
Anyway, we went to the film location of the
Tumbling scene,
when Frodo and chums first exit the Shire - and even having only watched the films once I recognise it ... at least when I see the stills! We try and re enact some of the stills for photos, but (thankfully!?) my feet are not large or hairy enough!
From here down to the Miramar Peninsula and stopped for a hot chocolate at the
Chocolate Fish Cafe
, famous watering Hole of the stars, sadly Orlando had not left hsi number for me.
From here to the outside of a Stone Quarry which we could not enter but which was the set of both
Minas Tirith and Helms Deep
- more use of stills from the film.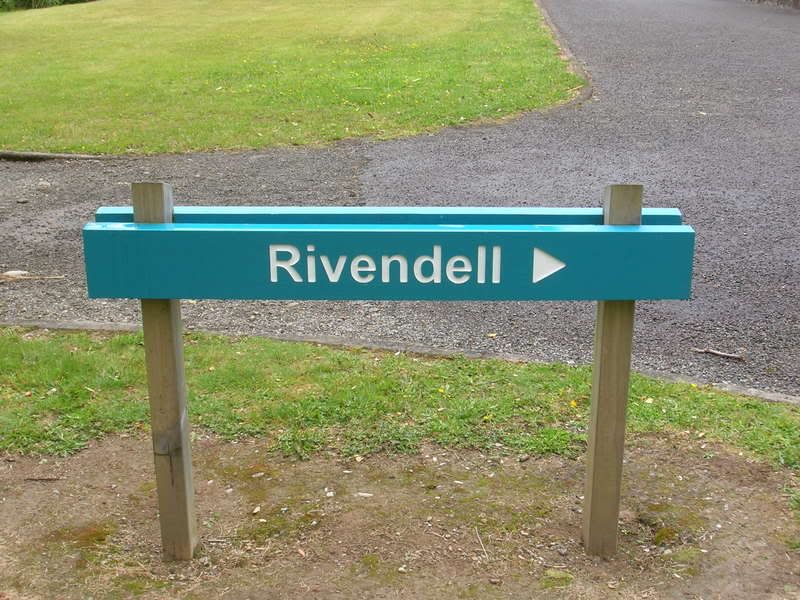 Our lunch stop was at
Rivendell
- and whilst the food was awesome, this set proved to be possibly the most disappointing of all. It needed all your imagination as there was nothing recognisable there at all!. We did manage to spot
THE VERY
TREE
that Orlando (swoon) Bloom had all his publicity shots taken in front of. I think the photo here speaks for itself!
Next we headed to
Isengard
, more computer generated imagery needed - " that tree over there, is this one here...", and finally to the
Great River Anduin.
To be honest while the sites themselves were fairly unimpressive, we did get some really good geeky info, so beware if you watch any of the LoTR films with me henceforth! Here's a couple of tasters until I get home:
Wormtongue has no eyebrows
The statues of the two kings are modelled on Vigo Mortesens two grandfathers so that when Aragorn talks of "the faces of his ancestors" it's actually true!
The sound of the troll is made up of a lions roar and a walrus roar from the Wellington zoo. One for breathing in and one for breathing out!
The next day we headed to the impressive Te Papa Museum - and experienced an earthquake (well a manufactured one) which was of the same scale as the one we slept through. I truly am a heavy sleeper!
Tomorrow we are off to South Island!