With the bonus of a 4 day weekend, H and I were back on the road, and took a flight to
Melbourne
to visit our mate
Darren
who we met in Ilha Grande, Brazil. Not quite a stranger this weekend... we had known Dazza all of 3 days!
I had been looking forward to this weekend for ages, and Melbourne certainly didn't disappoint - it's a much nicer city than Sydney - smaller, more spacious and it has a more European feel.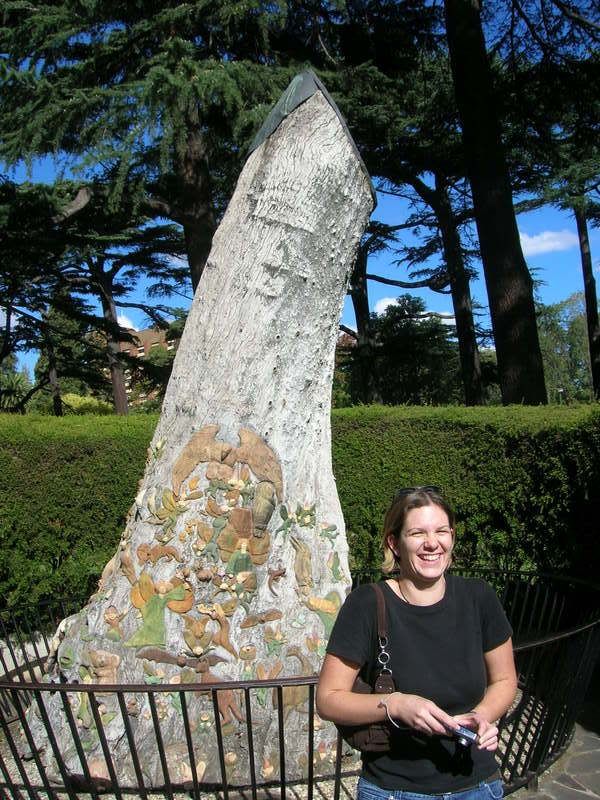 On the Friday, we spent the day touring the city itself. We ambled throught he streets of
China Town
, and visited
Fitzroy cottages
home of
Captains Cooks house
. This is not the house where he lived in Australia, but his family home, belonging to his parents which has been shipped over to oz brick by brick! Fitzroy gardens is also home to the
Fairy Tree
(which I renamed the Fairy Stump for obvious reasons), and a random miniature Tudor village which had been sent as a gift by Lambeth Council as thanks for the food parcels sent by Melbourne during the war... ???!!!!
We saw
Federation Square
, the central focus point of the city, which looks remarkably like the Jewish Museum in Berlin, and headed down on the tram to
St Kilda
for a well earned cuppa on the pier looking on at the city. I really love it here. We also had a wander around
Luna Park
- which reminded me of Margate, complete with its wooden rollercoaster.
The next day, we head into town early, by getting the train from
Batman
- I kid you not!. Today, I will fufil a must see of Australia... a visit to the hallowed tarmac that is
Ramsey Street
(or Pin Oak Court to its actual residents). Mock me, call me sad, but years of watching Harold, Madge, and Paul Robinson, I couldn't come to Melbourne and let this opportunity slip by!
I don't think Dazza was quite as enthusiastic as H and I, considering by his visable cringe as the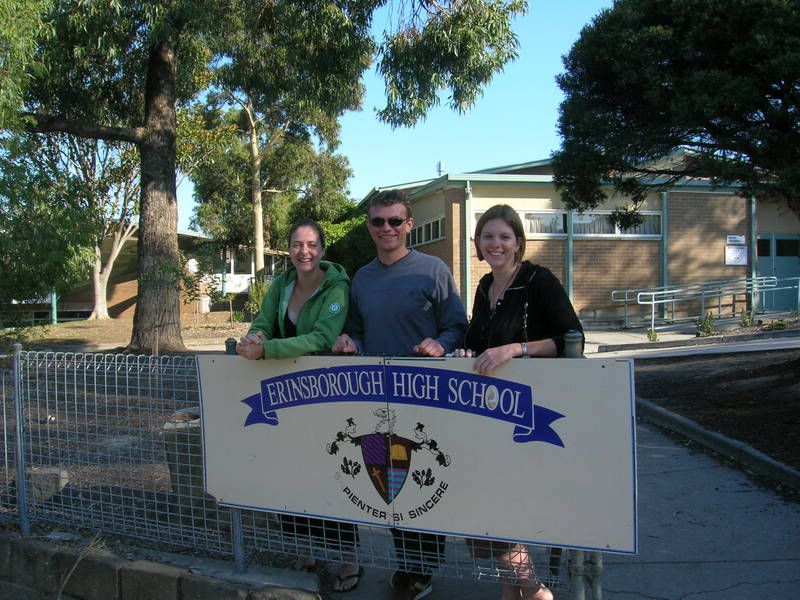 bus emblazoned with NEIGHBOURS pulled up to pick us up. I on the other hand was practically bouncing, especially as a video of Jason's "Too Many Broken Hearts" was playing on the TV screen on the bus, and was shortly followed by Craig McLaughlin's "Hey Mona" - this took me back!
We headed first to
Erinsbrough High
, and then to the hallowed street itself. It's crazy, but it seems really small, and it was very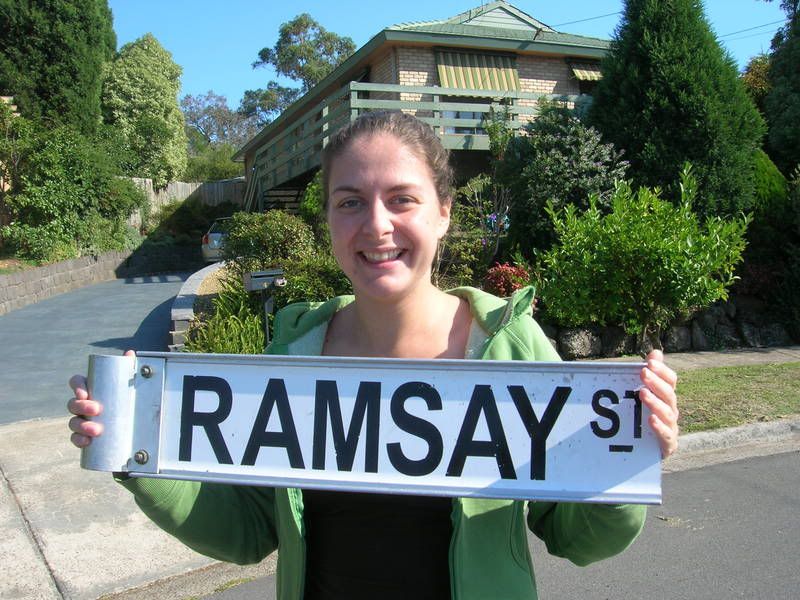 odd, to see all the houses , just as you see them on the TV. Sadly, I was one of the geeks who knew who had previously inhabited the houses. Signs of a mis-spent youth perhaps? From here we drove to St Kilda and stopped outside Luna park, when
Janelle
jumped on our bus!
Sadly for her, she was hungover, and no one really had many questions, so again I looked like a right geek asking loads of questions and trying to make her feel wanted... especially as she had got up on a staurday morning to see us!
Back in the city we headed to the
MCG
for our first taste of
AFL
- otherwise known as Aussie Rules. We watched Richmond v the Sydney Swans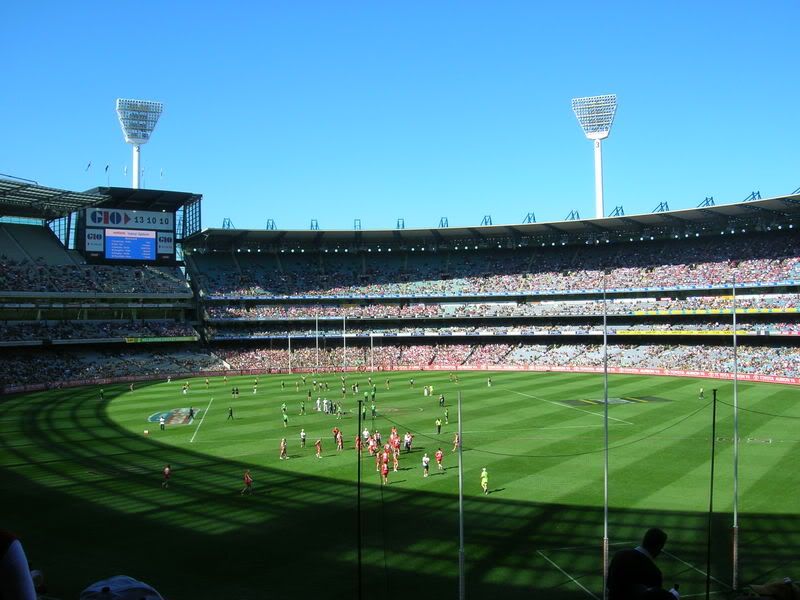 I knew nothing about this game, but this is THE stadium to watch it in (and as you already know H and I like stadia!) Basically it's a game for 17 men per team (believe me, it looks like there are hundreds of them running about the pitch... we kept trying to count how many per side and our estimates ranged from 16 - 19!)
You can run with the ball, but must bounce it every so many metres. You can punch the ball to fellow team mates and kick it. If you catch it cleanly the opposition have to get back 10 metres or so from you. Basically you need to kick it between the posts.
It's all very strange and H and I were baffled for most of it, plus I annoyed everyone around me by asking questions (Ironically there aren't too many "rules" in Aussie Rules and no one gets sent off or sin binned!), but it is very watchable, and the fans go mad. They all wear baseball caps and the funny little vest shirt things, and there is a really crap song for each team, complete with oom pah pah type music, which everyone sings! Hysterical!
We finished off our second night in Melbourne with dinner in St Kilda, watching the sun set behind the palm trees.
Sunday morning and we were off in Darren's jeep for a trip down the
Great Ocean Road
to see the Apostles.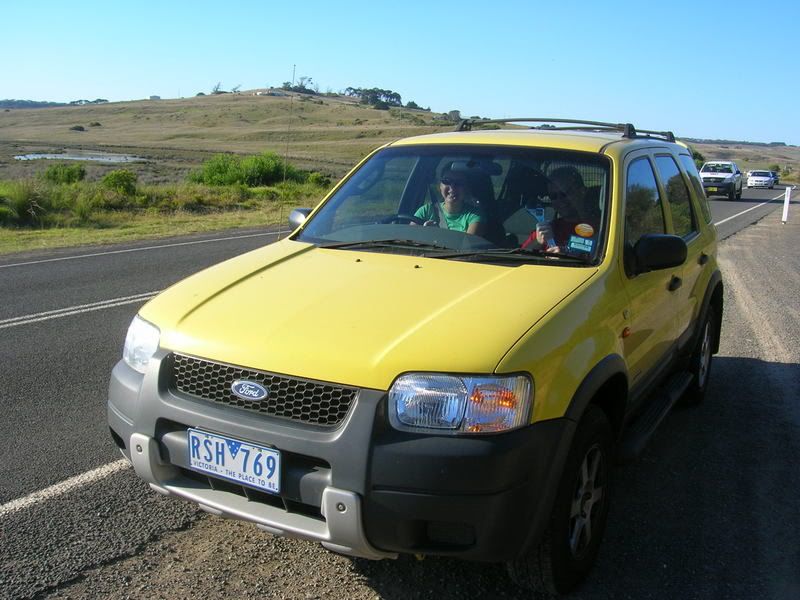 It made me laugh that we started off the day driving down St Albans Road and then on the M1! It was Easter Sunday, and H and I broke our chocolate fast with a very chocolatey breakfast in Geelong. It really felt like we were on holiday as we sat and relaxed in the sunshine!
We drove through with the Ocean lapping on our left, enjoying the views. It was a lot of driving, and even i got behind the wheel! But it was great to be on the road again, and we sang along to the Police as we drove - "Message in a bottle" will always remind me of the Great Ocean Road.
About 4pm we reached
The Apostles
, and battled with the hoardes for photographs. Back in the jeep we reached
London Bridge
for sunset, and chilled out as the ocean lapped the quiet beach below.
Then it was a mammoth trip back to Melbourne on the dark roads, stopping to see an echidna crossing the road on the way!
Last day in Melbourne, and we venture once more into town. This time we visited the old
Melbourne Gaol
where Ned Kelly had been hanged. The cells were small, and all contained a death mask of its former occupant complete with the dastardly stories - including the woman who had been paid to look after babies, and instead killed and buried them.
We then headed to the funky
Brunswick Street
, for a quick look in the funky shops, and second hand book stalls, before a very yummy dinner. We went and colelcted Darrens dogs - Hamish adn max, adn took them for a walk, before heading to the airport for a flight back to Sydney. It will be really hard to go back to work tomorrow after such a fantastic weekend.
Thanks for having us Dazza! We had an awesome time!